Children's Undershirt - Long Sleeves - 100% Silk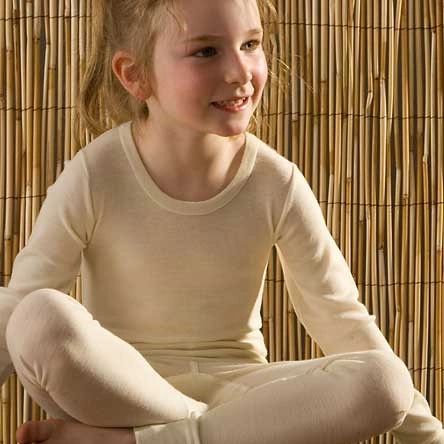 Children's Undershirt - Long Sleeves - 100% Silk
Spoil your child's skin with precious silk.
These children's undershirts are made from 100% silk. It is hypoallergenic and made for sensitive skin. Silk is durable, smooth and very comfortable to wear. Like animal hair fibers, silk does not conduct heat. It is therefore also a good insulator, keeping you warm in winter and cool in summer.
Tussah silk is produced by Tussah silkworms and has a beautiful natural golden color.

The finest quality available, and the perfect combination of many benefits of wool and the extraordinary characteristics of precious silk. Fine merino wool is absorbent and cosily warm. Silk is durable, smooth and comfortable to wear. Because natural fibers breathe, together they create a temperature balance and support the natural capacity of the skin.
Gently handwashing your silk clothing is recommended. If necessary, apply a very mild detergent, such as wool shampoo. Rinse the item in cold water, until all soap residue has been removed. Drying in the sun, on a heater, or in the dryer is taboo. Roll any silk item in a dry terry towel twice to take out moisture, then let it dry at a well aerated and shaded place. Do not twist or wring, as this could damage the fibers.

Dry cleaning and using bleach is not recommended.
European sizes are a child's height in centimeters (1 inch = 2.54 cm). Size by age is approximate, and as all children are unique. So, please choose the size that corresponds to your child's total height for best fit:
92 = 36" ~ 1-2 years
104 = 41" ~ 2-4 years
116 = 45.5" ~ 4-6 years
128 = 50.5" ~ 6-8 years
140 = 55" ~ 8-10 years
152 = 60" ~ 10-12 years
164 = 64.5"~ 12-14 years