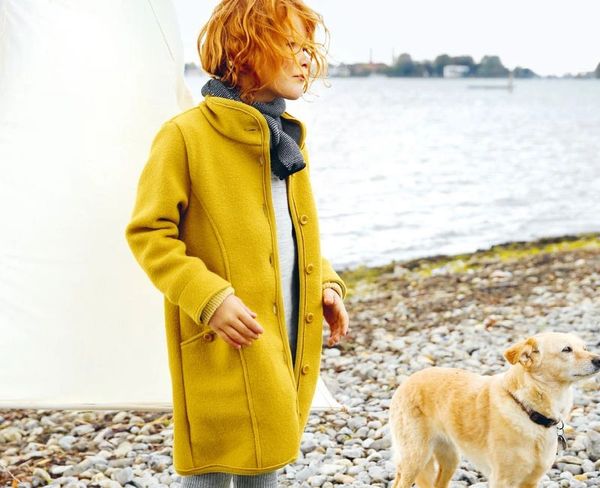 Organic Boiled Wool Coat
Disana's boiled wool coat has undergone more than a facelift!
Their "tiny Sunday coat" became a sportive coat for young ladies.  Elegant and casual, trendy and absolutely suitable for daily use.  With a long cut, this boiled wool coat keeps warm on cold days – even when sitting, thanks to the extended back part.  Its high collar not only looks good and underlines the coat's sporty line; it also ensures thermal protection on the neck. Of course fully free from scratching due to a sewn-in cotton lining.
The matching zipper has a cotton lining on the coat's inside too, which simplifies the closing of the coat. Two discrete deep pockets on the front offer space for important essentials. The sleeves are completed smoothly by long and soft cuffs.
To make sure you get the new Disana coat of your choice, it is best to pre-order yours before February 28, 2019.  You can do so by adding your choice to our shopping cart.  $50 will be charged and the remaining cost will be invoiced once we are ready to ship the coat.
Disana will provide more product pictures soon!
We do have a few coats (current style) left in stock, which will be shipped within 1-2 business days of placing an order.
Made in Germany!
Here are some measurements to help you with sizing:
110/116 (4-5 years) - length: 23.75" (neck to hem), sleeve length: 11.75" (underarm to cuff), width: 13.75" (underarm to underarm)
122/128 (6-8 years) - length: 24.75" (neck to hem), sleeve length: 12.5" (underarm to cuff), width: 15.25" (underarm to underarm)
134/140 (9-10 years) - length: 27.75" (neck to hem), sleeve length: 13.75" (underarm to cuff), width: 16.25" (underarm to underarm)
Why wool?
Wool keeps your child warm, because its naturally crinkled fibers hold the body heat. This way, wool balances temperature in cooler surroundings.
Pure Merino wool can absorb up to a third of its own weight in moisture without feeling damp. Thanks to its lanolin content, the fiber also offers protection from external wetness, with pearls of water forming on its surface.
Finely crimped wool does not itch and feels soft and comfortable on sensitive skin.
Care of Wool
1. Gently hand wash wool items using very cold water. Be gentle, as the agitation can cause wool to shrink.
2. Apply a very mild detergent, such as DISANA wool shampoo.
3. Rinse the item in cold water until all soap residue has been removed.
4. Press the water out of the fabric by rolling it in a towel. Do not twist or wring, as this will shrink the fabric.
5. Hang the wet garment and allow it to air dry completely. Do NOT hang wool garments in the sun to dry.
6. Iron only when absolutely necessary. Use a cool iron with a press cloth between the iron and the fabric.
Additional Tips
- Dry cleaning is not recommended, as it could shrink your wool garment.
- Since wool is a natural fiber, do not use bleach, as it will damage the fibers.